Hello Kitty Rice Pizza
Call us obsessed but when a collaboration this cute happens, we can't help our imaginations get ahead of ourselves with these cute and simple recipes to help add a twist to our meals!
Ingredients (makes four 4" x 5" pizza):
Rice Cooker:
2 cups (rice measuring cup) short or medium grain white rice
Water to fill to water level 1 for "WHITE RICE"
For Pizza:
1/2 red bell pepper, flattest side
1" square yellow bell pepper slice
3.5" square

 

nori

 

sheet (approx.)
8 Tbsp. parmesan cheese, grated
1/2 tsp. salt
4 tsp. basil leaves, dried
2 egg
4 tsp. pizza sauce
4 sheets cheese wrap or 8 deli-style slices
1 Tbsp. olive oil
Garnish (optional):
Directions:
1. Measure rice accurately using the measuring cup that came with your rice cooker. Rinse rice until water clears, drain and place in the inner cooking pan.
2. Add water to water level 2 for "WHITE RICE." Cook the rice using the "REGULAR" (if available), or the "WHITE RICE" setting.
3. While the rice is cooking, prepare Hello Kitty's ribbon and nose. Boil water (not included in the ingredient's list) in a saucepan 1-inch deep, place red and yellow bell peppers, skin side down, cook for 6 minutes. Transfer peppers to a bowl of cold water (not included in the ingredients list) and chill for 3 minutes. Drain water and peel off the bell peppers' thin skin. Set aside.
4. Prepare Hello Kitty's face. Draw Hello Kitty's face (about 4" high) to use as a template. For each decoration, prepare:
For whiskers and eyes: Cut nori sheet in half, layer sheets and carefully cut out 6 whiskers and 2 eyes.
For the nose: From a yellow pepper, cut out an oval for the nose.
For the bow: From a red bell pepper, cut 2 bow parts and 1 center knot.
Mince remaining bell peppers and set aside.
5. Make the rice pizza. When rice completes cooking, transfer to a large bowl. Add minced bell peppers from step 4, parmesan cheese, salt, basil and mix together. Wait for 5 minutes to cool down.
6. Whisk egg in another bowl, pour over mixed rice from step 5 and combine by mixing well.
7. Cover the Hello Kitty drawing with a greased parchment paper (image below for reference). Using the drawing as a guide, place a quarter amount of mixed rice for the face, onto the parchment paper and cover with plastic wrap, tightly press and adjust shape to fit outline with hands. Repeat steps to make three more rice crusts on each parchment paper. Set aside.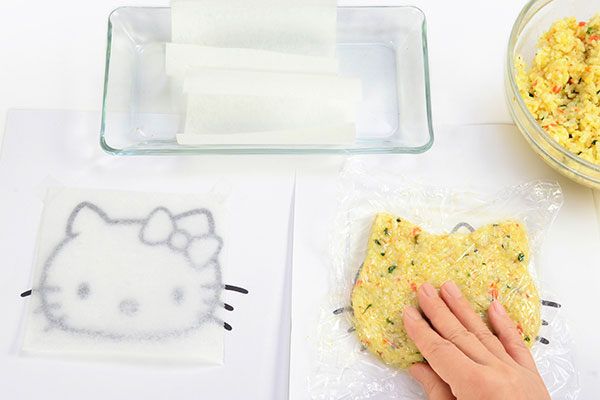 8. Prepare the cheese. Create a slightly smaller Hello Kitty template by trimming off the outline. Use this smaller pattern to cut out a face shape from parchment paper. Place cheese slice on another parchment paper and using the pattern, cut out cheese to make four faces. Use two slices of cheese per pizza if necessary. Set aside. 
9. Heat olive oil over medium low heat in a large fry pan. Place shaped rice face top side down on the pan. Place a lid and bake for 2-3 minutes or until the bottom turns golden.
10. Carefully flip rice pizza to bake both sides and spread one teaspoon of pizza sauce. Place prepared cheese on top. Cook with a lid for 1-2 minutes to melt the cheese. Transfer the rice pizza to the serving plate, and decorate with bell peppers, nori from step 4.
11. Add optional garnish of broccoli to the plate. Enjoy!
Recipe courtesy of Zojirushi Corporation USA
©1976, 2020 SANRIO CO., LTD. Used Under License.
Hello Kitty
recipes
rice cooker recipe
Sanrio
Zojirushi